Word to PDF: Conversion made easy with PDF-T-Maker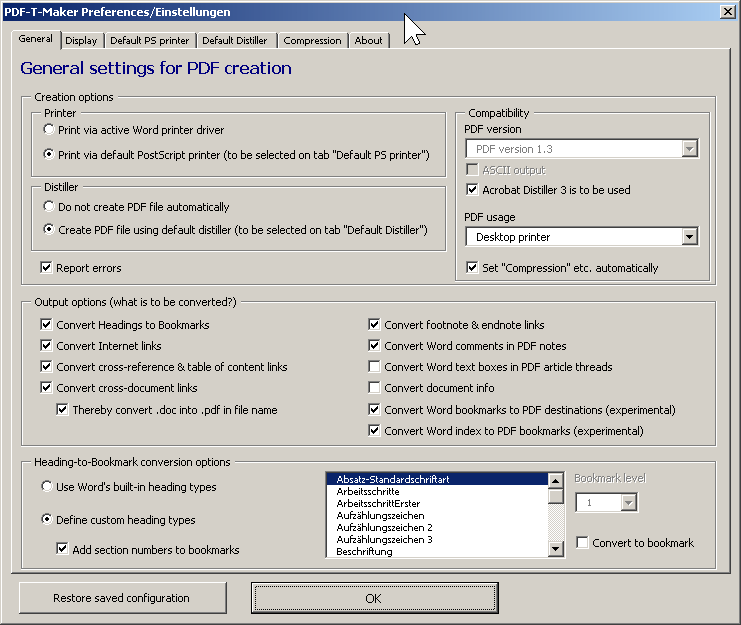 Dialog window for PDF-T-Maker settings

Zoom
From Word to PDF
You create documents in Microsoft Word, spare no effort to produce proper headings, lists of contents, links and cross references, an index, and want to pass on the document as PDF file? You want to produce rich PDF files which contain all meta information from your Word document as bookmarks, hyperlinks, comments etc.? You look for a solution that costs little or even nothing?
Your solution could be PDF-T-Maker: PDF-T-Maker is an add-in to Word. Similar to almost any PDF converter, as first step PDF-T-Maker converts your Word document into a PostScript file. You can send this PostScript file through a distiller, that generates the PDF file from it. As distiller you may use stand-alone solutions such as Adobe Distiller or GhostScript as well as pre-configured, highly automated solutions such as FreePDF XP, qvPDF, PDFCreator etc. This way, with a minimum of effort you can configure a one-click solution costing you a just

mini tariff.
The following pages go deeper into detail:
Meta information
PDF-T-Maker converts for example the following meta information:
Headings into bookmarks (section numbers are passed on into the bookmarks)
Document internal and external links into PDF hyperlinks
Lists of contents into PDF hyperlinks
WinWord footnote and endnote links into PDF hyperlinks
WinWord comments into PDF notes
WinWord text boxes to PDF threads
WinWord document info into PDF document info
Word index entries into bookmarks (actually, why has no-one yet conceived the idea to convert the index into bookmarks? — at least we do not know of any other program that could do this)
Thereby certain PDF document settings can be predefined, such as the design of PDF hyperlinks (visible/invisible, box type etc.).
What is PDF-T-Maker?
PDF-T-Maker has been developed from the PDFMaker for Adobe Acrobat 3.0. It is a set of VBA macros (Visual Basic for Applications), that plug in into WinWord and do their work on mouse click.
Minor bugs have been solved, additional features implemented, a (hopefully) easier to understand, less complex user interface created. PDF-T-Maker not only operates in tandem with Acrobat Distiller but also with other converters such as GhostScript for example. The PDF manual, which is implemented as context sensitive online help, demonstrates the conversion options in most diverse ways.
However, there are also several features available in current PDFMaker versions that are not supported by PDF-T-Maker. But, these usually can also be configured in the Distiller, so that the implementation in PDF-T-Maker would only be a duplication.
The original PDFMaker can be downloaded from Adobe free of charge, the program code is not protected.
Distinctive features of PDF-T-Maker
PDF-T-Maker can be configured as a one-click solution for any suitable PostScript-to-PDF converter. This means, when you want to convert your WinWord document into PDF, you just click the start button, and PDF-T-Maker does the rest.
The one-click solution works with any PS-to-PDF converter (including later Acrobat Distillers and the free-of-charge GhostScript). Thereby you can also specify that a specific printer driver that is used automatically for all your PostScript files.
In addition: PDF-T-Maker can generate a useful tool to make accessible the document by converting the Word index to PDF bookmarks.
PDF-T-Maker comes with an extensive manual (PDF file), which is linked as context sensitive online help into the user interface: [Help] buttons call up the PDF help, you will be presented with the page which is relevant in the current context.
Using PDF-T-Maker, also batch conversions of Word files are possible. Alternatively, you may develop automation solutions, that start a conversion for example via the DOS prompt (automatic PDF generation).
PDF-T-Maker and Adobe Acrobat
PDF-T-Maker can be used as supplement to or as replacement for Adobe PDFMaker — in either case you can use PDF-T-Maker and nonetheless generate your PDF file using Adobe Acrobat Distiller. Thereby, PDF-T-Maker peacefully coexists with a PDFMaker already installed, there is no need to uninstall PDFMaker.
PDF-T-Maker and GhostScript
PDF-T-Maker works without any additional Adobe software, so it is well suited for zero Dollar solutions. Just use GhostScript. Also different graphical user interfaces (GUI) to GhostScript, such as FreePDF XP, qvPDF, PDFCreator, PrimoPDF etc., co-operate easily with PDF-T-Maker. In the user instructions you will find information, how to get PDF-T-Maker and Ghostscript to the point, that GhostScript is started by PDF-T-Maker automatically und that you will get your PDF file without any further interaction.
Preconditions, compatibility
Microsoft Word 97 or higher (2000, XP, 2003)
Almost any PostScript-to-PDF converter, whether commercial or free, e.g Acrobat Distiller, GhostScript, qvPDF, FreePDF XP, PDFCreator, PrimoPDF, ServPDF (refer to the manual for settings)
PostScript printer driver (refer to the manual, where to get this free of charge if required)
Operating system: Windows
(PDF-T-Maker has not been tested on Apple Macintosh.)
Download
PDF-T-Maker (program and manual)
Please note the installation instructions in the PDF file.
If, as a start, you only want to see the manual: PDF-T-Maker (manual only)
Note: If you find any bugs in PDF-T-Maker, please contact us
Licence
PDF-T-Maker is free of charge — but also without any warranty and guaranty. Neither Transcom nor Adobe are liable for any damages or losses which are traceable to PDF-T-Maker.
The source code is open, however not Open Source: For different (including important) parts of the source code, Adobe holds the copyrights and has kept its code under a "private" licence. Therefore the source code as a whole cannot be put under an Open Source licence. However, Adobe has granted the necessary rights to Transcom, to edit the source code and distribute such edits. For this right, we thank Adobe very much! If you want to include extensions to PDF-T-Maker of your own, please contact us.
For the documents generated using PDF-T-Maker and their usage there is a single limitation by the licence: The documents may not infringe the Universal Declaration of Human Rights of the UNO.
Collection of further PDF tools
An extensive, linked collection of tools for the creation and editing of PDF files (including several programs named on this page) can be found at Rumborak.
---
InvitationWare
Invitation (Englisch): Einladung
Invitation for tender: Ausschreibung
Die Informationen auf www.transcom.de sind InvitationWare: Einerseits sind Sie eingeladen, sie zu nutzen. Andererseits, wenn die Informationen auf diesen Seiten Ihnen geholfen haben oder die Tipps und Programme für Sie nützlich sind, dann erinnern Sie sich doch an Transcom, wenn Sie mal wieder einen Auftrag in einem unserer

Fachgebiete zu vergeben haben — und senden uns eine Einladung zum Angebot.

Rufen Sie uns an oder senden uns eine E-Mail.