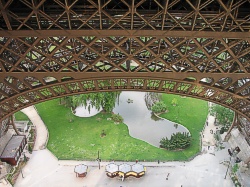 Eiffel tower
The following tools developed by us can be downloaded
Character allocation table: A WinWord macro, that generates a table with ANSI or Unicode characters. Suitable, for example, for checking the code number of a letter/character or just to display a font completely with a certain font size. Only available in German.
PDF-T-Maker, a PostScript generator for Acrobat Distiller or alternative converters (including GhostScript). PDF-T-Maker generates PostScript files from WinWord files including all the meta data for bookmarks, hyperlinks etc. that can then be transferred by the converter into the PDF file. The macro plug-in is based on the PDFMaker by Adobe for Acrobat Distiller 3.x; it works however independently of the Distiller installation and can also transfer the heading numbers into the bookmarks.
Transcom Tools. This set of WinWord macros converts a clean WinWord document into an RTF file that can then be converted into a WinHelp file by the Microsoft Help Compiler. As an additional feature the Transcom Tools extend WinWord by a conditional text feature and make the assignment of bookmarks and index entries easier. Only available in German.
TranscomFMTools, scripts for automating repetitive tasks based on the FrameMaker scripting language. In addition to having FrameMaker, FrameScript or ElmScript must be installed. Only available in German.
Transcom is against software patents

The downloads found on our pages, we will not be able to offern any longer, when we have to fear, that we could infringe any patent rights with out programs. In view of the many software patents in Europe, that have been granted already but are yet invalid, there is an intensive discussion about the patentability of software and software-implemented processes. There is a strong tendency to allow software patents similarily to the US-american law, that would endanger the capability for innovation especially of the small and medium enterprises in the area of software. This train however, can still be stopped. If you want to learn more or want to support the opponents of software patents, visit the website of the initiative

No software patents.